Get the authentic information from websites of various government health department
Keep spreading ONLY authentic information and help the nation to fight Corona Pandemic.
Translation by dedicated volunteers in 10+ languages
Videos dubbing in regional languages
These posters are taken from WHO, CDC, MOHFW, state health department , and other authentic sources. A number of posters has been translated in local languages by a team of dedicated volunteers.
19+ Stateswise Informations
600+ translation by dedicated volunteers in 10+ languages
Collected as donation till now
Hospitals helped for getting PPE/mask
Organisation helped through which ration is distributed
Helping migrant workers travel at 2 sites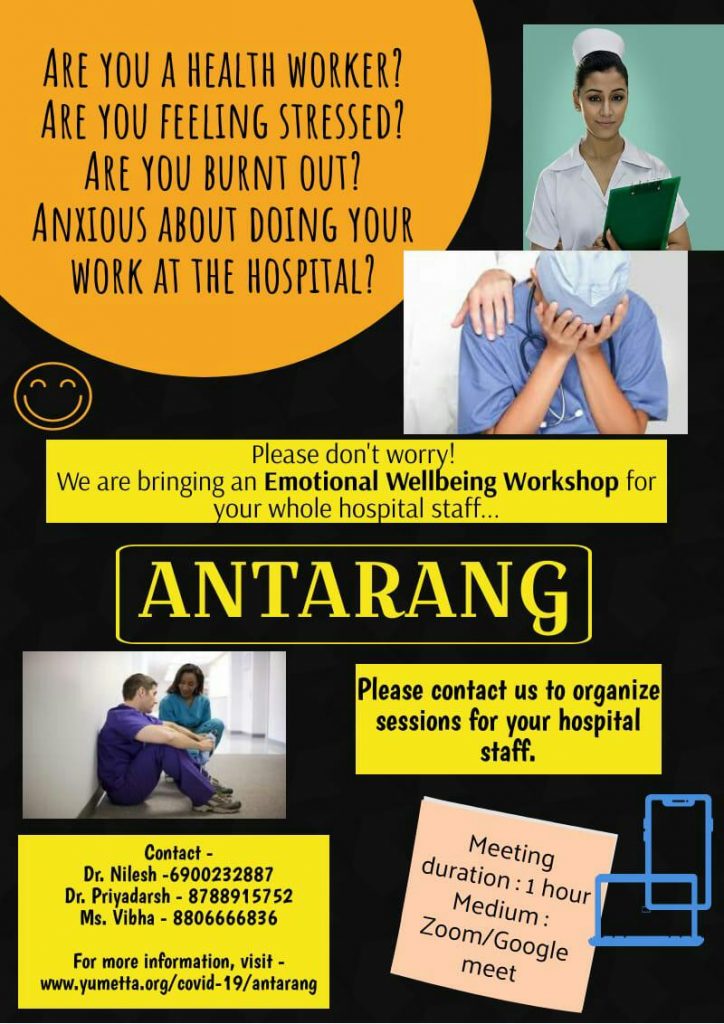 Are you a health worker?
Are you feeling stressed?
Are you burnt out?
Anxious about doing your work at the hospital?
Please don't worry!
We are bringing an Emotional Wellbeing Workshop for your whole hospital staff! 
Please contact us to organize sessions for your hospital staff.
Some important things to remember while sharing the information -
Focus on spreading  authentic and relevant information about COVID 19 crisis
Spread as little information as possible daily to have maximum effect.
Do not Bombard with more information at a time.
Use more visuals and Images/ Videos.
Spread information at 8 to 9 am, 1-2 pm and 5 to 7 pm for maximum effectiveness.
If you want to volunteer with us to spread this messages and also help in translation of this messages, kindly click below button to fill the Volunteer Application Form: