#Go_To_The_People_Youth_Camp – 1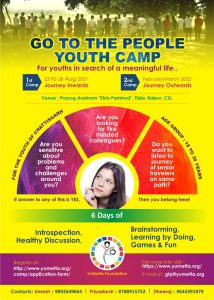 So after 2 years of planning and setbacks from Corona , we could finally conduct a 6 days youth camp for socially sensitive youths of Chattisgarh. Theme of this 1st camp was Journey Inwards.
Generally youths don't get any platform to discuss and learn issues pertaining to them. #YuMetta_Foundation tried to provide that platform with resource persons from various fields interacting with these youths. Each day came with a Value and a theme to know oneself in depth.
Many issues which youths wanted to know in more depth were discussed.
Sharamkarya, acts , public speaking, role plays , games , debating sessions and cultural activities added variety to this camp.
It's just the starting of a journey with these youths.
It was all learning , discipline, fun, games, learning by doing,  positivity and energy.
Thanks All for making this camp successful.
Camp for the Next batch of youths will be in the month of October 2021.
Stay tuned…..
"Find deep meaning on small issues" Hello! I am Sreenu...
Read More