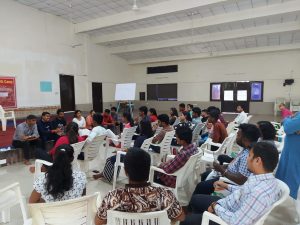 Corona is annoying and has been controlling us again and again since past few years. Which brought a lot of challenges in our way of organising this very camp.
It took 2 years of planning and plotting to finally put a leg down and act up to the planning and finally do it. Putting all our energy into it, we organised our first GTP-camp on the month of August last year. Where the camp related activities were oriented towards the topic "Journey Inward", which was a great and significant success. Connecting Youthful people to their abilities and potential with several activities under the supervision of several mentors.
Finally, Again with a leap of 6 months we came back again with more power and enthusiasm and organised our second GTP-camp at a peaceful Ashram on the outskirts of Raipur city. With several new individuals the camp started with a great energy.
The theme of the second camp was "Journey Outwards"
A 6-day camp, organised for youth, youth with power of questioning, youth with power of answering and most importantly youth with capability of changing the future of this country. And giving them a platform to question and get an appropriate answer.
Not just these individuals learnt how to understand from their external environment, but also to estimate theirselves and their capabilities and challenge themselves even after the camp is over.
Day-1
started with powerful set of exercises, meditation and yoga at early morning as the sun touched the horizon, and moving further into the day, in vicinity of our experienced mentors we came to teach these young individuals, a lot about "how the environment surrounding them effects them." The topic of first day was divided into  four subtopic: first- "Listen to Understand." Where we have learnt how to be a good listener and understand better and avoid further consequences of ill communication. Second- "Jealousy & comfort zone." The topic I deeply wanted to know more and more about to work on myself, wondering why do I get jealous so easily, why do I never leave my comfort zone and how to avoid such regretful and disheartening feelings.
Third- "Excuses to say NO." The third subtopic where we learnt how people so easily try to get away with doing anything, by giving various vicious excuses and white lies and how to avoid such situations. And Last but not the least, fourth- "Killing time or Vaqt ka khoon." A stubtopic with a lot to learn from, as the name suggest killing time, how we kill our precious time wasting and wondering whilst the benefits only comes from doing, and doing the right things. And focusing on these four topics throughout the day we brought the day to a halt on the dining.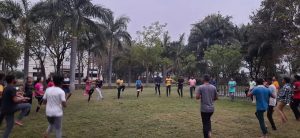 Day-2
started early in morning exactly with same enthusiasm at 6 am. With sunshine and positivity. We again sat down to learn more…. "Understanding-accepting-editing system of relationships" was the topic for the Day. You (the reader) must be presuming the day was just about relationship between two individuals. But NO, the topic was way beyond that. To elaborate which "Mr. Rahul ji" an expert and socially active citizen came to mentor us for the day.
The topic was vast, and from relationship with a person, the stretched to a persons relationship to their society and their country. And how important it is for one citizen to build a healthy relationship with his or her family as well as their community and nation.
Day-3
was wondering, a day filled with facts and knowledge information, as the topic for the day was as wonderful as it sounded; "Bharat ki khoj se lekar, Aazadi ka Amrit mahotsav." As the name suggest the day was oriented towards the foundation of India to it being the nation it is today. The struggle, the sacrifices, the journey, the hardships everything was shelved right in front of us to digest. A discussion more detailed and beyond highschool books, a discussion where we let the learner ask questions. Not just the formation of this very country, but how does it work was clarified in the session.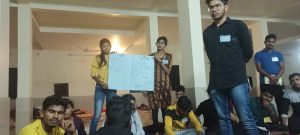 Day-4
came with an even more interesting topic, which was "Insaan Ki Paison Ko Lekar Arthik Samajh." and in short "Economic science." At this point of our 7 days journey everyone was understood that this camp is not just about doing and doing, perhaps it's about OBSERVING, ANALYZING, UNDERSTANDING, PLANNING and then DOING. Another part of this initiative is to connect people from different parts of a state, from different backgrounds and giving them a chance to know each other and build a relationship with them and learn from them, knowing each other wasn't just limited to knowing each others names, but also what we are, where we belong to, what do we do, and what part we play in society.
The above mentioned day was full of activities, where each group have to give a presentation about money. From its origin to its uses, and how money plays an essential parts in our lives.
In conclusion we learned that money is being used from centuries, to end the barter system. So that an individual or group can buy each others commodity without having to exchange selectively favorible good that other party might want.
Everything was explained to us in very depth, and as a human being we were always curious to know more, and with ability to question we questioned. After every break, and after every sessions our mentors (organisers) were always ready to clear the doubts at the digestion period where we sat forming a circle to share our doubts, POV's and facts.
Between the meditation and breakfast every morning we did a diary sharing ritual, where a particular group asked would share what they learnt in previous session. Which was really necessary to revise and keep the topic fresh in our mind.
"Pranith Simha Ji" was our spokes person for Day-5,
present there to share his wisdom on topic; "Kitabi Shiksha Se Jeevan Shiksha Tak." as the name suggests that not everything one person is sought to learn cannot be only found in books on the shelf of a dusty library. Some things are to be learnt from experiences. The day started with a heartwarming introduction of our very dearest speaker Mr. Pranith, and his story from growing up to his present. Founder of the "BACHPAN BANAO." an organisation which fecilitates underprivileged kids and brighten their future by sacrificing his own comfortable life, or a better word to define "INVESTED" his life. The lesson throughout the day was to prepare an ideal India inside our head, and with every moment it became clear that to get the Ideal India we want. We have to initiate the change from ourselves, and from changing ourself, to changing our city, to state to our whole country. If I could sum up the whole day in just one line I would say Education of a country is directly proportional to the present state of a country and vice versa. The day didn't just end up in in any simple manner but with a spirit tall as a mountain that we can do more for this society than we can manifest.
By the time Day-6 reached our doors,
everyone have had discovered more about themselves now than ever, about who they are and what they could be. The last session, of our seven day journey. To sit and recall every topic we discussed about in past these days and what are some of the topics you might want to emphasize and know more about and about which we could discuss and take private intel from any of the mentors (organiser) who we thought might have our answer, and of course they did.
By the time the camp reached to halt, Everyone made so many new friends, made so many memories, but still couldn't make sence of how the time passed by so quickly. Leaving for their respective homes we all took away a special gift with us, a gift of wisdom, and friendship of good people.